Did you know, that HEALING takes BRAVERY!💪🏽
​
Just like weight loss, healing is NOT LINEAR!
​
Meaning… Our Healing process can fluctuate.🌊
​
Healing from physical, mental, emotional, or spiritual hardship are ONGOING journeys!🙏🏽
​
My specialty lies in helping others begin their healing journey from physical health hardship, while also implementing the positive MINDSET teaching it takes to stay consistent & be BRAVE enough to tackle one's situation!🌟
​
CONFESSION TIME…😬
​
Do you know that if I don't get 9 hours of sleep, I can't function optimally. But once I catch up the next night I'm good and rested?
​
Doesn't sound very scandalous does it?🤷🏻‍♀️
​
Do you also know that a few years ago, when I suffered from a 25 year battle with Chronic Fatigue Syndrome & before I learned about Ancestral Eating… It didn't matter if I got 9 hours of rest. It took me weeks to try to catch up no matter how much I slept. Yes WEEKS!😳
​
Today, my personal healing may not be 💯 percent yet, but I am grateful for each part of the journey and am leaps and bounds healthier than I once was!🙌🏽
​
My HEALING is an ongoing process, but I had to be BRAVE enough to make the dietary changes necessary… The changes that would lead me to a better life.☀️
​
Pictured are my plates of FUEL for a day! This is the brain food that has given me my life back!!!🥩🐟🥚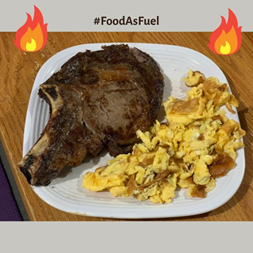 ​
Yours would probably include more Color, seeing as I have more food sensitivities.🍓🥑🥥🥬
​
But sacrificing those foods that made me sick & added to my suffering is no longer a sacrifice… It's now a welcomed way of life!
​
This is my life! I embrace it & I no longer simply survive… I THRIVE!💫
​
So what about YOU… ARE YOU READY TO HEAL, GET YOUR LIFE BACK, AND BE BRAVE?💪🏽
​
Allow me to assist you on your health journey & teach you how to feed your body back to health!🙋🏻‍♀️
​
My 𝗛𝗮𝗹𝗼'𝘀 𝗳𝗼𝗿 𝗛𝗲𝗮𝗹𝘁𝗵, Online Keto Nutrition Course, is NOW OPEN!